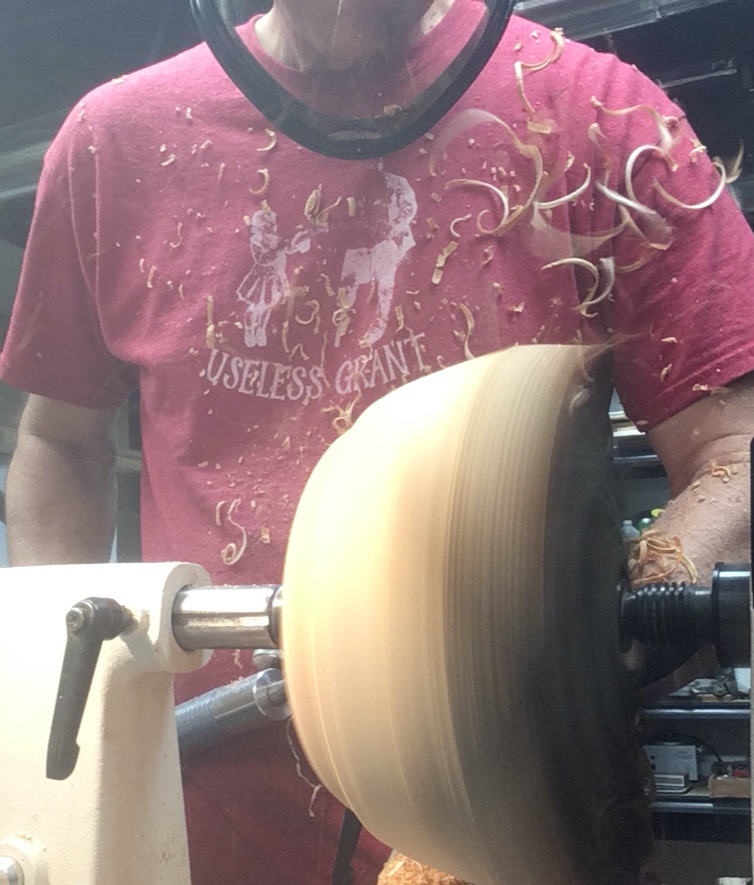 Jeff Struewing, woodturner on Woodland Ave in Takoma Park, MD
After a few years of amateur furniture making, in late 2016 I purchased a lathe and have shifted exclusively to turning. I am a member of the Montgomery County, Capital Area, and Mid-Maryland Woodturners clubs and the American Association of Woodturners, and have participated in several workshops from professional turners such as Stuart Batty, Donna Banfield, Mark Gardner, and Jacques Vesery.
One of the benefits of turning is that virtually all the starting material comes locally from our abundance of trees. Except for a few smaller items made from "spectraply" or exotic offcuts, everything else is turned from wood otherwise destined for the landfill or fireplace.
Utilitarian pieces that come into contact with food (bowls, platters, cups, insides of salt & pepper shakers) are finished with food safe oil finishes from Tried & True or pure walnut oil. Spoons and spatulas are finished with mineral oil or walnut oil and beeswax. Some pieces are buffed with the Beall system of food safe abrasive and carnuba wax compounds. Some purely decorative pieces are finished with spray lacquers or Arm-R-Seal wipe on oil-poly blend. The metal parts of the bottle cap openers and stoppers are from Ruth Niles and are made of 304 FDA food grade stainless steel that won't corrode even when in contact with things like oil and vinegar. Pens use widely available Cross- or Parker-style refills and pencils use 7mm lead.
Wooden items should never be placed in a dishwasher or allowed to stand in water for any period of time. Clean with mild soap and water and dry immediately. If you feel the surface needs to be freshened up, you can use something simple like walnut or mineral oil. The keepsake memorial urns have a removable screw cap and hold a small amount of material (typically 10-15 cubic inches). Hollow vases and other urn shaped pieces are not watertight and should be used only with dry flowers or arrangements.
If anything you receive from me ever fails or is otherwise unsatisfactory, please do not hesitate to contact me.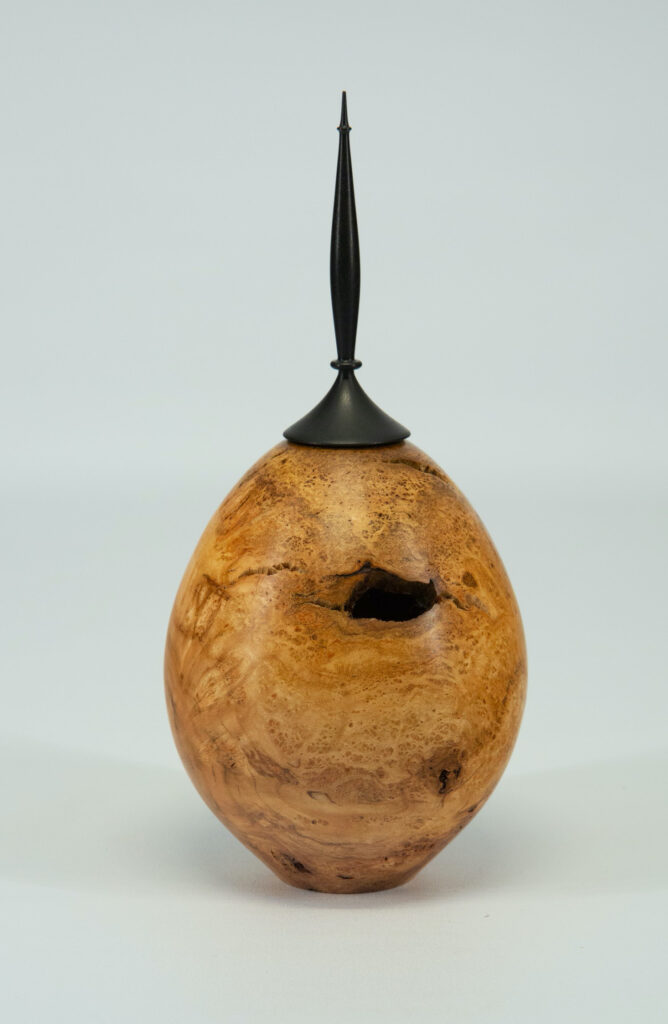 Aug 2 – Sep 2, 2019, Turning Wood Into Art Exhibit, Glen Echo Park, Glen Echo, MD
Feb 29 – April 11, 2020, Handcrafted Fiber Art + Turned Wood Exhibit, BlackRock Center for the Arts, Germantown, MD (Honorable Mention)
Oct 2 – Nov 1, 2020, Tree Spirits Exhibition, Delaplaine Arts Center, Frederick, MD
Mar 2 – Mar 28, 2021, Local Color Exhibit, Artists' Gallery, Ellicot CIty, MD
May 15, 2021, DUO Takoma ARTery Popup Sale, The Girl & The Vine, Takoma Park, MD
May 29 – Jul 24, 2021, Creative Crafts Council Biennial Exhibition, Bethesda, MD (Honorable Mention)
Jun 12 & Jun 26, 2021, Artisan Farmer's Market, BlackRock Center for the Arts, Germantown, MD
Sep 18 – Oct 30, 2021 The Power of Patience Exhibit, BlackRock Center for the Arts, Germantown, MD
Sep 19, 2021, Takoma ARTery Sales Booth, Wheaton Arts Parade and Festival, Wheaton, MD
Oct 3, 2021, Sales Booth, Takoma Park Street Festival, Takoma Park, MD
Sep 11, 2022, Woodturning Demonstrator with Zenith Community Arts Foundation's Mobile Wood Shop, DC State Fair, Washington, DC
Sep 17, 2022, Demonstrator, JRACraft Block Party, Mt Ranier, MD
Oct 3, 2022, Sales Booth, Takoma Park Street Festival, Takoma Park, MD
Nov 5 – Dec 30, 2022 Vendor, Gallery Gifts Holiday Pop-up Shop, Bethesda, MD
Oct 1, 2023, Sales Booth, Takoma Park Street Festival, Takoma Park, MD
Nov 18, 2023, Sales Booth, Washington Waldorf School Fall Bazaar, Bethesda, MD